Latest edition of "what did you make?" features
Jacqueline
and the "
198 Yards of Heaven
" shawl she's made. Twice. (Happily, as opposed to
last time
, she got two shawls!)
Originally, she had knit one for her daughter (who occasionally hangs out with us at
The Yarn Store
) but was forced to make another for the store for fear her daughter would hate us all for keeping her pretty shawl from her. No one wants that scenario.
So, Jacqueline knit another gorgeous shawl, and it's hanging in the store for all to see.
198 Yards of Heaven
is a free pattern you can download from
Ravelry
. It's designed to use one skein of luxury yarn (198 - 220 yards / 180 - 200m) and the designer
Christy Verity
describes the project as a shawlette or a scarf.
Jacqueline chose to knit with the lovely natural fibre
Araucania Ruca Multi
which is available
chez nous
in eight colour combos, as well as
Ruca Solid
in seven single colours, using a 4mm needle. This yarn has a luxurious drape, and is made of 100% sugarcane viscose.
Araucania Ruca Multi 18 (#74968)
Now, Jacqueline's not one to do things exactly by the rules, so she's made this one a little bigger than prescribed, using two skeins right to the very last inch.
Jacqueline's (more than) 198 Yards of Heaven
Heavenly, wouldn't you agree? In the next photo, she models the shawl (officially a shawl, in this size).
Keep in mind that blocking is a very important step in the process of completing this - and any other - project. Blocking will set the size and shape of your hand knitted item, including shaping details like the pretty points on this hem.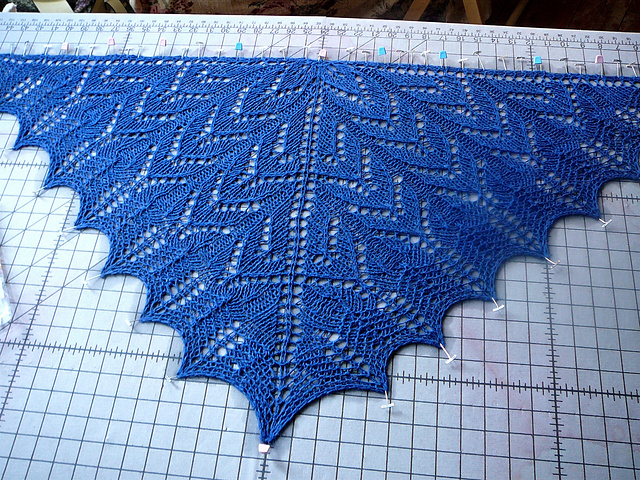 photo by Christy Verity
Here at the store we have two kinds of
blocking mats
. One from
Block 'N Roll
and a modular set from
Knit Picks
. If you've never blocked a project, come talk to us - we'll help convince you to try it (and suggest soap products for you, too) - and we'll bet you'll never skip this step again.
Come in to The Yarn Store to see and feel this little bit of shawl-shaped heaven, and get some of the yarn that Jacqueline used. We've got a
sale on right now
, too...!
Block 'N Roll blocking mat #76410 (38x50" flat).
Knit Picks Blocking Mat sets #70615 (9 mats each 12" square);